Amimon Connex Mini Sets -- 1600 Ft. LOS Range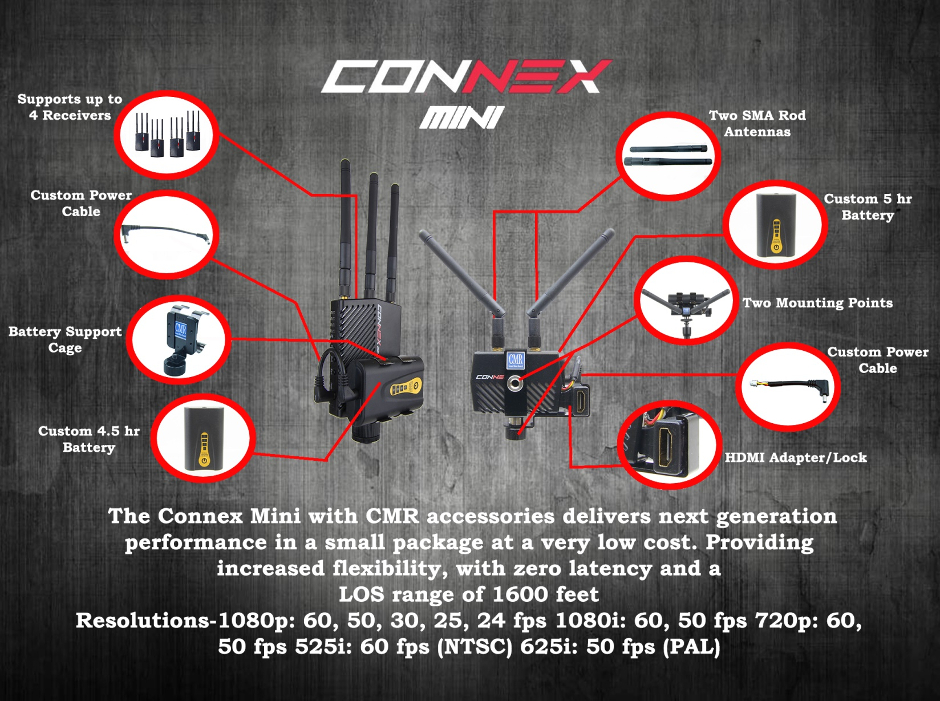 Connex Mini Transmitter and Receiver Easy Ordering Guide
Click to Expand
Click on any item to order
Wireless Sets and Cage Product Listing
Combined with CMR accessories, the Amimon Connex mini provides industry leading performance/cost benefit opportunities for wireless HD in any production environment or venue.
The Connex mini transmitters and receivers are smaller and lighter than the original Connex. The transmitter does not have a cooling fan, and power consumption of both the transmitter and receiver is lower than the Connex. The transmitter with ~ 5 hr. battery weighs only 8.4 oz, and the receiver with ~ 5 hr. battery weighs only 11.6 oz.
The Connex mini shares most of the wireless performance characteristics of the original Connex, with the exception of LOS range 1600 ft. And like the Connex, the mini does not transmit audio.
Connex Mini Specifications
Click to Expand
Feature
CONNEX Mini
Transmission Distance (Outdoor)
Up to 1,600 ft/500m (LoS)
Transmission Delay
Zero (Less than 1mS)
Radio Frequency
5.1-5.8 GHz
Channel
40 MHz
Channel Selection
Automatic frequency selection (AFS)
Video Formats
1080p/60, 1080p/50, 1080i/60, 1080i/50, 1080p/30,
1080p/24, 720p/60, 720p/50, 525i/60, 625i/50
Multicast Mode
Up to 4 receivers with no delay or quality degradation. (Requiring extra ground unit/s)
OSD Support
CANBUS & MAVLink Telemetry based
Gimbal control
SBUS & PPM
Encryption
AES-128 & RSA 1024 for key exchange
Operating Temperature
0-45 Celsius
Regulation
CE, FCC, MIC
Mobile App [new]
Windows, Android
| Feature | Air Unit (TX) | Ground Unit (RX) |
| --- | --- | --- |
| Video Interface | Micro HDMI | HDMI (Type A) |
| Antenna Connectors | SMA (x2) R/P | SMA (x3) R/P |
| Power Connector | 4-pins | DC Jack |
| Power Input | 6-28V (2S-6S) | 6-28V (2S-6S) |
| Dimensions (mm) | 65.5 x 44.7 x 14.9 | 100.2 x 71.2 x 17.15 |
| Weight | 60 grams | 140 grams |