NAB Wireless Video Challenge
Central Hall at NAB is the most challenging venue for wireless video sets we know of. The reason of course, is the multitude of 5 GHz noise sources throughout the hall.
We invite NAB guests to compare the performance of Amimon Connex and Connex Mini wireless video sets with CMR accessories to any other wireless video sets there.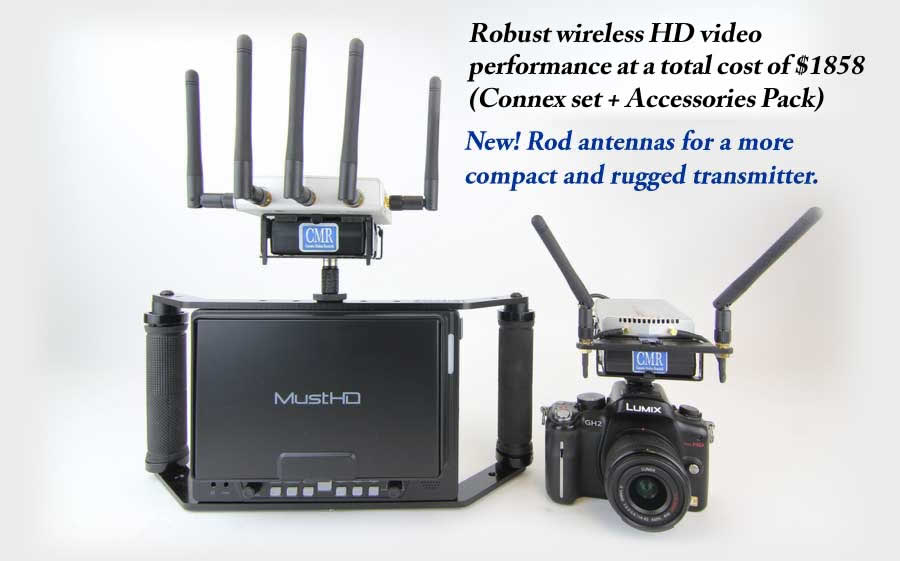 Connex sets were introduced by Amimon to meet demanding aerial wireless HD requirements, and they provide resilient connections with range up to 3300 ft. LOS (line of sight).
Camera Motion Research is announcing the availability of accessories for Amimon Connex wireless HD sets, allowing them to be used with standard camera rigs by providing engineered antenna mounts and power options.
For exceptional robust wireless HD (up to 1080 P60 resolution) – when audio transmission is not required – Amimon Connex with CMR accessories at a total cost under $2K.
The combination of Amimon Connex wireless HD sets and CMR accessories provides reliable zero latency operation equal to, or better than, systems costing thousands of dollars more. They are excellent solutions for indoor and outdoor venues of all types. Note: The Connex air unit has a cooling fan which could be objectionable on sound sets
Connex Specifications
Criteria
Specification
Distance (Outdoor)
Up to 3,300ft./1,000m (LOS)
Transmission Delay
Zero (Less than 1mS)
Radio Frequency
5.1-5.8 GHz
Channel Selection
Automatic frequency selection (AFS)
Video Formats
1080p/60, 1080p/50, 1080i/60, 1080i/50, 1080p/30, 1080p25,
1080p/24, 720p/60, 720p/50, 525i/60, 625i/50
Multicast Mode
Up to 4 receivers with no delay or quality degradation (Requires extra ground unit/s)
OSD Support
MAVLINK Telemetry Based
Encryption
AES-128 & RSA 1024 for key exchange
Operating Temperature
0-45 Celsius
Regulations
CE, FCC, MIC
| Criteria | Air Unit | Ground Unit |
| --- | --- | --- |
| Video Interface | mini HDMI | HDMI (Type A) |
| Antenna Connectors | MMCX (x2) | SMA (x5) |
| Power Connector | 4-pins | DC Jack |
| Power Input | 8-26V (3S-6S) | 7-19V |
| Dimensions | 102 x 63.6 x 15.6 | 129 x 89 x 20 |
| Weight | 130 grams | 260 grams |
Basic Ordering Guide – What do you need?
A. Start with the Connex set (unless you already have one and just need CMR accessories)
Order:
AND
B. You can order our Connex Accessories Pack which has everything you need to make the Connex an amazing self-powered wireless HD set for general purpose camera use. It includes the air unit battery cage/antenna support kit, ground unit battery cage, and 2 sets of lithium batteries with chargers.
OR
C. If you just want to mount a self-powered Connex air unit to your camera, you need the battery cage with integral antenna support, and a battery.
Order:
OR
D. If you just want a self-powered ground unit you need the ground unit battery cage and a battery.
Order:
OR
E. If your camera rig has an on-board battery such as V-mount or AB with a D-tap out, and you want to use it to power the Connex air unit, you only need the antenna support and D-tap power cable.
Order:
Range Considerations
Cinematography environments using wireless HD usually don't require LOS operating distances of thousands of feet. But they often require non-LOS operation over much shorter ranges. And that is where the robust performance of the Connex can make the difference.
Outdoor RF free field (no reflections) testing with Amimon Connex sets done by CMR has demonstrated typical NON-LOS (transmitter antennas blocked) range of 600 ft., and 350 ft. with both transmitter and receiver antennas blocked. Also, lost connections are typically quickly recovered with small distance backtracking
Connections can actually benefit from reflected RF, taking advantage of MIMO technology, to provide robust performance without dead zones. This is especially true for large indoor venues.
We have also seen where other RF sources, and not necessarily just other wireless HD 5GHz sets, can severely limit range on less robust systems. 5 GHz upper band WIFI activity is becoming an increasing source of noise. An example is a football stadium where a campus wide WIFI system gets hit by many users on tablets or cellphones using the WIFI access. The Connex has been shown to be much more tolerant of this kind of interference with significantly less loss of range.
Going through walls: Propagation of 5 GHz signals through walls and building structures is nearly impossible to generalize. Our testing shows the Connex to be more robust transmitting through building walls, but certainly not in the ratios comparing LOS range specs of different systems.
Signal attenuation guide (low is better for transmission):
Interior dry wall – low
Ordinary glass – low
Foliage –low to moderate
Double pane coated glass – high
Concrete and brick – high
What early testers have said about the Connex with CMR accessories
"A really beautiful Wireless Video kit. The Amimon Connex sent over from Camera Motion Research can send a full 1080p HD signal 10x further than other systems in its price range…. This custom kit is using special batteries and mounting hardware to go from drone use to ProVideo use. If you're looking to send video to a director's monitor reliably, with great distance, and super low latency, this is going to be the kit."
"Absolutely love the kit. The distance achieved for ground work is amazing. The CMR cage system is such a needed accessory. It turns a $1600 transmitter into a studio wireless staple."
"When looking for a cost effective wireless solution, the options were very limited and unreliable until we came across the Connex. It has outstanding range that can cover an entire football field or gym. The only problem, it did not have a good way to interface with a multi-cam configuration. Camera Motion Research has solved that issue by developing a cage for both the receiver and transmitter along with various power options that enables easy integration into a live production environment. Now, we use the system at almost every event with superb results and reliability."
"The Connex wireless video transmission system from Camera Motion Research really enhanced our live streaming experience at our high school by allowing us the capability to be anywhere around our football stadium and not be bound by wires.  The range capability of this system is very impressive given the affordability of the product.  Streaming full HD video wireless has added an element of excitement among my students who can get the best angles in any live event."
"We were wanting to purchase the higher end of a competitive product, but just couldn't budget it. We found the Connex with CMR accessories, did a test drive in a real live situation, and couldn't believe the quality, especially for the price. Absolutely a really good deal!"