Amimon Connex Mini Transmitter with Fusion Receiver Sets – 3300 Ft. LOS Range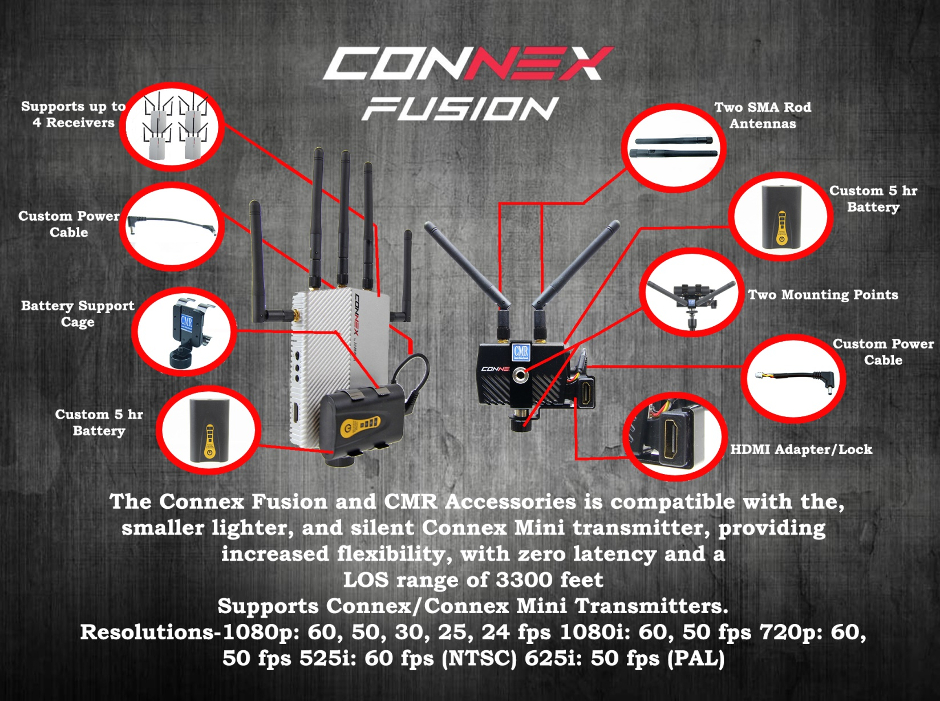 Connex Mini Transmitter and Fusion Receiver Easy Ordering Guide
Click to Expand
Click on any item to order
Wireless Sets and Cage Product Listing
The Connex Fusion receiver is the original Connex receiver with a firmware update that allows it to work with the Connex Mini transmitter, and the combination has the full 3300 ft. LOS range specification.
This combination provides the industries longest guaranteed LOS range spec for a set using standard omnidirectional antennas.
The Connex Mini transmitter can be used with the Connex Mini receiver, the Fusion receiver, and the Long Range receiver.
Connex Mini + Fusion Specifications
Click to Expand
CONNEX Mini Transmitter with Connex Fusion Receiver
Transmission Distance Outdoor
Up to 1,000m/3,300 ft. (LoS)
Transmission Delay
Zero [Less than 1 msec.]
Radio Frequency
5.1-5.8 GHz, according to regional regulations
Channel Selection
Automatic frequency selection [AFS]
Video Formats

1080p60/59.94
1080p/50
1080i60/59.94
1080i/50
1080p30/29.97
1080p24/23.98
720p60/59.94
720p/50
480i60/59.94
480p60/59.94
576i50
576p/50

Multicast Mode
Up to 4 receivers with no delay or quality degradation. [Requiring extra Ground Unit(s)]
OSD Support
MAVLink (3DR) and CAN bus (DJI) Telemetry
Gimbal Control
Ground unit PPM or S.BUS trainer port input / Air Unit S.BUS port output
Encryption
AES-128 & RSA 1024 for key exchange
Operating Temperature
0-45° Celsius
Regulation
CE, FCC, MIC
| | Connex Mini Transmitter | Connex Fusion Receiver |
| --- | --- | --- |
| Video Interface | Micro HDMI | HDMI (Type A) |
| Antenna Connectors | RP SMA (x2) | RP SMA (x5) |
| Power Connector | 4-pins | DC round |
| Power Input | 8*-26V (3S-6S) | 8*-17V |
| Dimensions (mm) | 66 x 45 x15 | 129 x 89 x 20 |
| Weight | 60 grams | 290 grams |
| * CMR tested to 7V minimum | | |