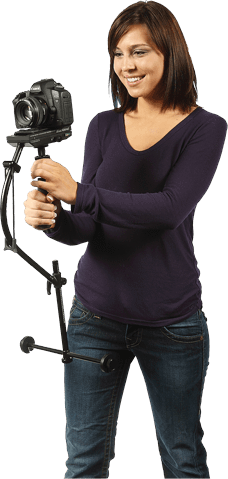 The excellent stabilizer performance provided by the
Blackbird results from the combination of high moments of
inertia but low weight, and a precision gimbal
with SmoothTouch adjustable friction in the
tilt and roll directions. All of this is achieved
while setting a new standard for ease of setup
and adjustment.
Incorporating CMR patent pending
technology, the innovative Blackbird is
manufactured with high quality components
and carries a 1 year full warranty.
The Blackbird Full Kit is now priced at just
$359. The Blackbird basic is no longer available.
The Blackbird provides the best handheld video
(and DSLR!) camera stabilizer performance available
for cameras weighing from less than 1 lb and
up to 8 lbs.