Camera Motion Research Command View
Whether you call it a drone, UAV or UAS, the CMR Command View can provide the additional flexibility you need for your mission.
Fire Departments - Police Departments - Rescue Squads - Industrial Inspection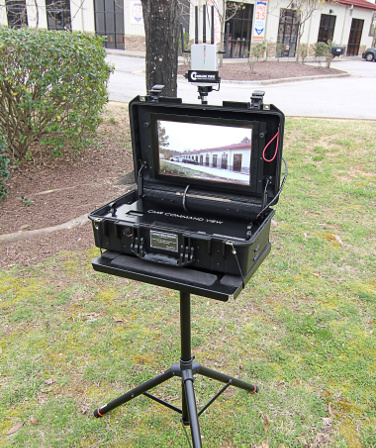 The CMR Command View provides a robust solution to the often needed requirement to send secure live video from a UAV pilot to a command station.
It is a self-contained wireless video station with a 15.6 in., 1920 x 1080 resolution, 1000 NIT sunlight viewable monitor, in a Pelican case.
It includes the Amimon Connex Fusion wireless receiver and Connex Mini transmitter with an LOS range of 3300 ft. with zero latency, and up to full 1080 P(60). Two V-mount lithium ion batteries provide up to 9 hours of total operating time.
The Command View can be set up and running in minutes on a stand or in a command vehicle.
The receiver stored in the case can be mounted on the lid of the case. Or the receiver can be mounted on an antenna mast, tripod or on top of a vehicle using the 15 ft. HDMI and power cable (always attached). After mounting the receiver and turning on the power, the connect time to the transmitter is typically less than 10 seconds.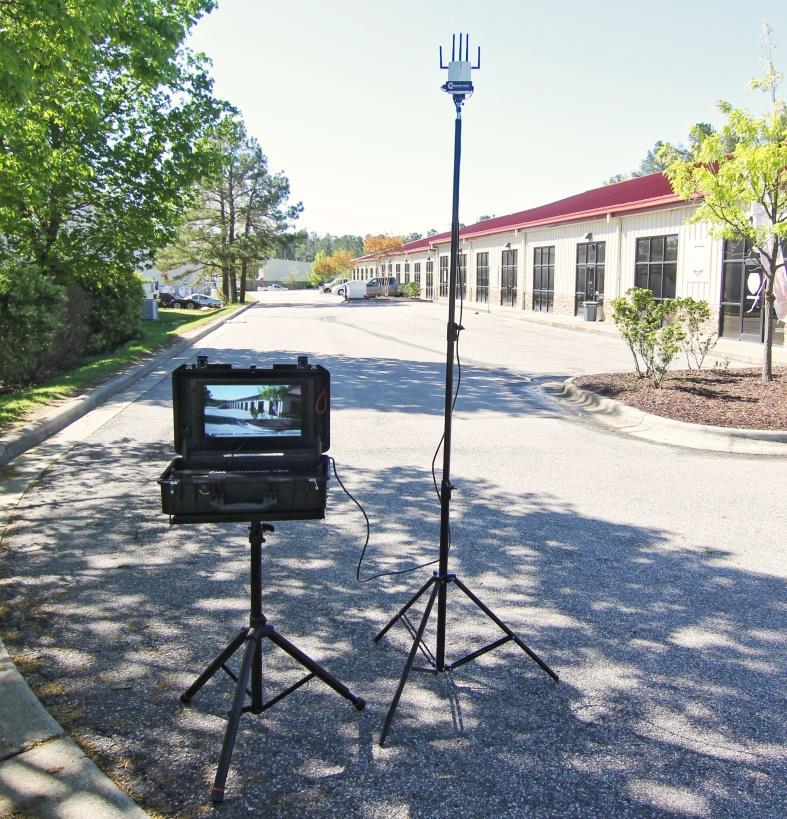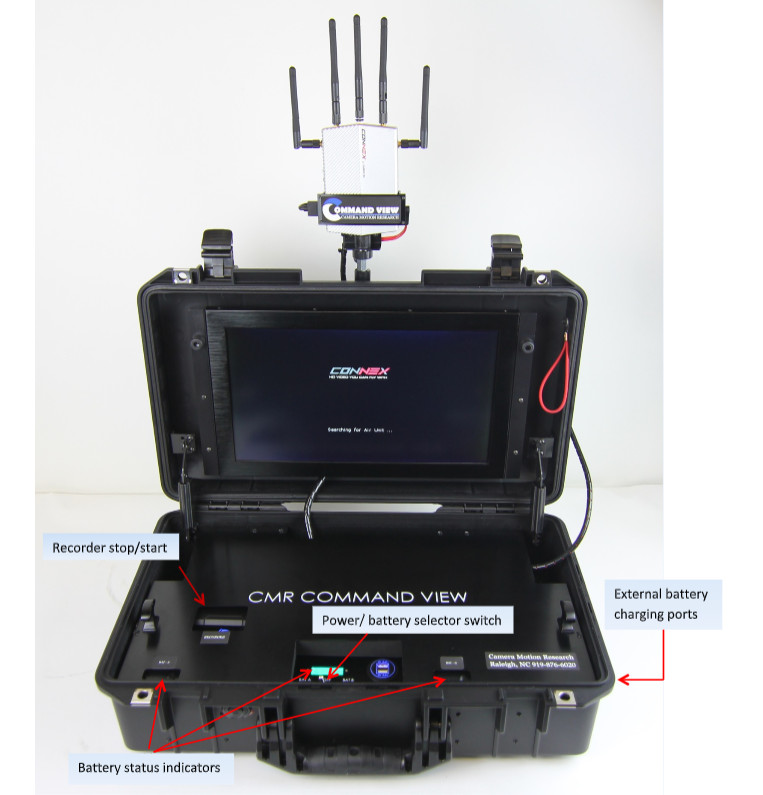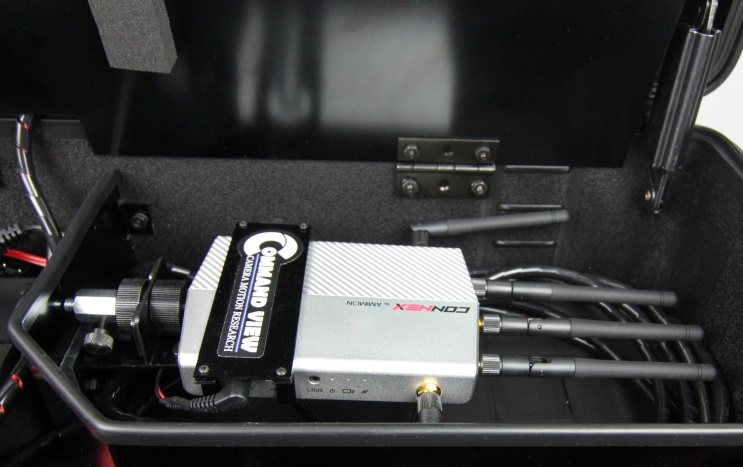 Receiver and 15 ft. HDMI/Power cable stored in case
One V-mount battery charger/ AC adapter can also be stored in the case.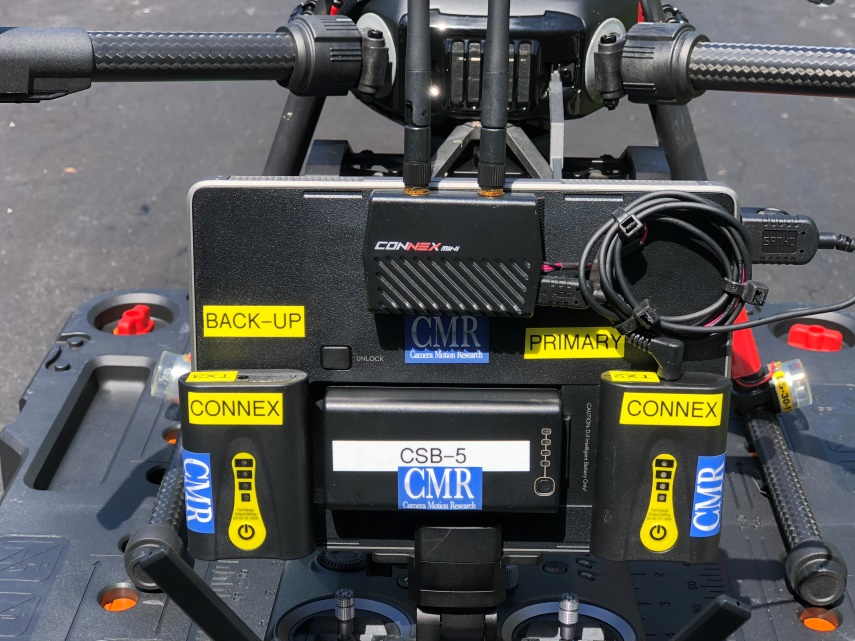 The Amimon Connex Mini transmitter is small and light. The transmitter requires an HDMI video signal. It works very well attached to the back of a DJI Crystal Sky ™ monitor with velcro tape. Or using the included CMR Mini TX cage, the transmitter can be attached to a controller using ¼-20 mounting points.
Operating time with one CMR lithium ion battery is about 4 hours. 
Note: The Connex Mini transmitter can simultaneously transmit to up to 4 receivers without any loss of performance or range.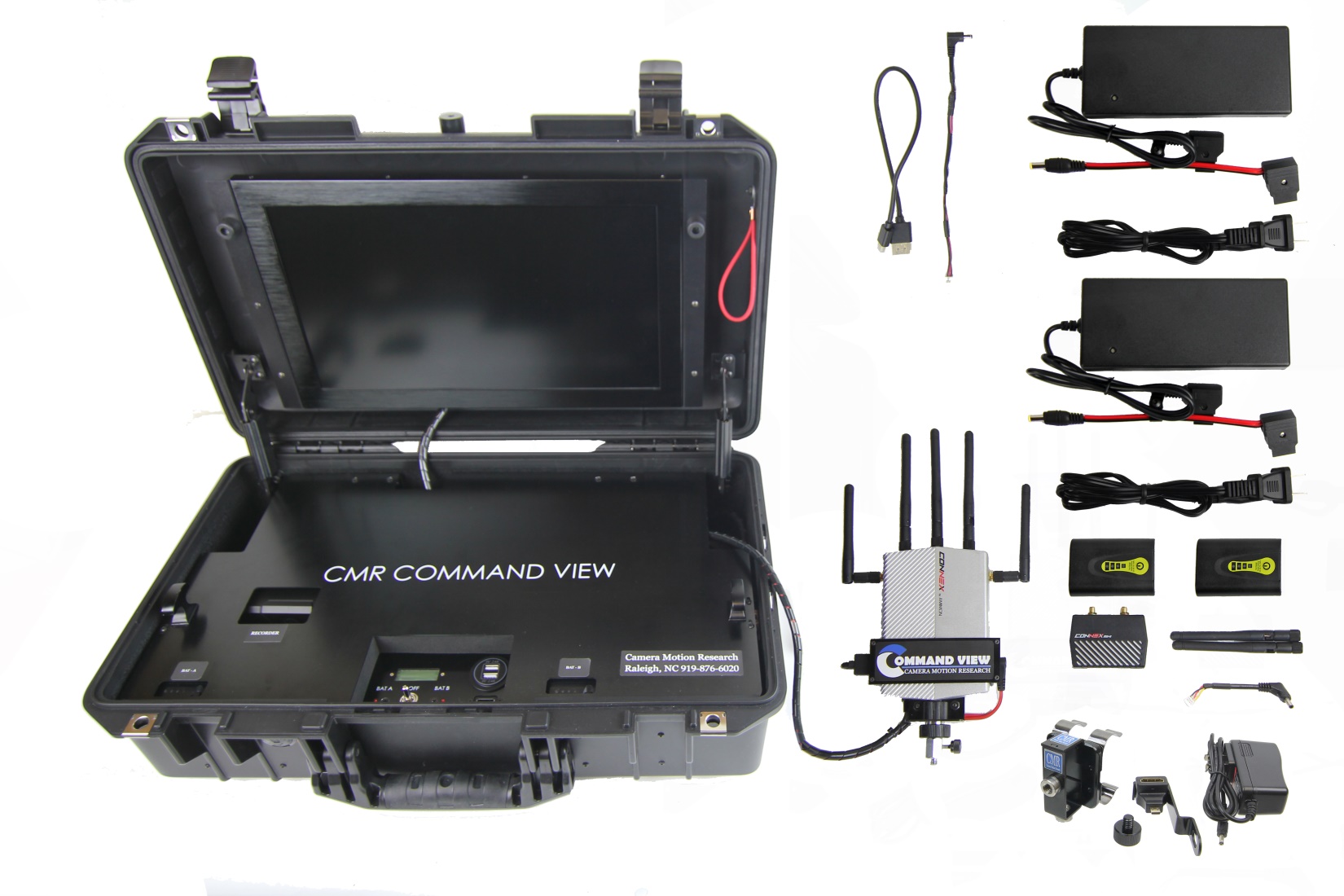 Specifications
Command View General
Monitor: 15.6", 1000 NIT, 1920 x 1080, 24 bit color
Batteries: 2 x 150 Whr, V-mount, can be charged in case, up to 9 hours total operating time
AC power: Can also be powered with 120 V, 60 Hz
Video Recorder: micro SD card
Ports: Auxiliary HDMI out, 2 x USB 2.4 A charging ports, 2 x Battery charger/AC adapter
Physical: Weight – 22.5 lbs., Dimensions - 21.96 x 13.97 x 7.49 in.
Wireless Video
Wireless Video: Amimon Connex Mini transmitter and Fusion receiver
Wireless range: 3300 ft. LOS
Radio Frequency: 5.1-5.8 GHz: 11 channels including DFS channels
Latency: Zero (less than 1 msec)
Video Formats: 1080p/60, 1080p/50, 1080i/60, 1080i/50, 1080p/30, 1080p/24, 720p/60, 720p/50, 525i/60, 625i/50
Encryption: AES-128 & RSA 1024 for key exchange
Channel Selection: Automatic channel selection
Transmitter Physical: Weight- 60 g, dimensions- 65.5×44.7×14.9 mm
Transmitter Battery: CMR lithium ion, weight 111g, dimensions- 70x49x21 mm
YouTube video of Command View features
A Use Case Testimonial
I have been using the Command View from Camera Motion Research for the last 6 months. This unit has performed flawlessly. The construction of the unit is very durable, with an amazing screen that works in bright daylight. It has 2 batteries that provide over 8 hours of use that can even be re-charged as they are being used. The DVR recorder has been a huge asset as we can record the entire flight of our students for safety. Transmission of the image from the DJI Crystal Sky to the Command View has never been interrupted in use, providing my students with a view of the entire flight. The Command View is very easy to set up in about 5 minutes. I would recommend the Command View for almost any application, professional construction and professional components will provide good longevity.
William J. Schwahn, Level III Thermographer
FAA 107 Pilot
Infrared Training Center, Instructor
For more information and price call 919-876-6020 or
email sales@camotionllc.com